Beth Thinks I'm A Proctologist
That's Just Nassty
In her
comment
and
link
to
my latest essay
, Beth from
My VRWC
suggests that I've performed a "colonic irrigation" on Al Gore.
Come on, now, that's not true; robots don't have colons.
I've also been linked to by
an Italian blog
. I can't read Italian, so I can't say for sure if he picked up on the "colonic irrigation" theme, but he did accent his post with this picture, which looks like Gore is in the middle of some sort of exam: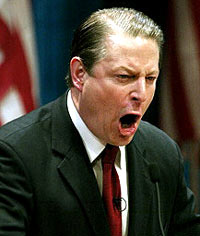 It's a dirty job, but someone's gotta do it.